INCBA at MjBizCon 2023 Solicitors Soirée!
28nov7:00 pm9:00 pmINCBA at MjBizCon 2023 Solicitors Soirée!You've come to MJBizCon 2023 to rub elbows with the best in cannabis. We've got the skinny on all the happenings and affiliated events.
Event Details

You've come to MJBizCon 2023 to rub elbows with the best in cannabis. We've got the skinny on all the happenings and affiliated events. Once the Expo closes at 6pm, and you think, "Now what?!?" Affiliated events are MJBizCon approved association and media partners, exhibitors or sponsors having cannabis 'after hours' parties in Vegas.  

Bookmark this page if you want the 411 on all the sponsor and exhibitor after-hours parties happening around MJBizCon 2023. Check back as this page is updated frequently, especially as we get closer to the start of MJBizCon.

Are you an exhibitor or sponsor with interest in holding an "affiliated" event in conjunction with MJBizCon? Simply click on the link below to start the process.
The Emjays International Cannabis Awards and Afterparty presented by AVD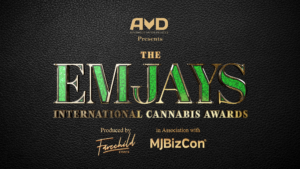 Thursday, November 30 7:00pm – 2:00am
The Emjays Awards is hosted at the Palms Hotel & Casino Las Vegas – Pearl Concert Theater from 7pm-10pm and Afterparty hosted at the KAOS Nighclub from 10pm-2am. The cannabis industry has longed for a way to recognize businesses and individuals who are leaders and innovators in their specific business category. There are a lot of awards and "cups" that recognize the best cannabis products, however, the companies that focus on the ancillary services and products that support the cannabis goods have little to look forward to when it comes to recognition and awards. This is why The Emjays – International Cannabis Awards – was created; a collaboration between award-winning event producers – Farechild Events and the largest cannabis trade show and media entity in the industry – MJBizCon. The Emjays will be a black-tie affair that will encourage guests and nominees to get dressed up to make this a very rare and special evening for the cannabis industry that seldomly have events of this caliber. The fully produced show will consist of a red carpet entry, 20+ award categories with different "celebrity" presenters for each category, live music performances and an afterparty. Tickets to the Awards provide entry to Afterparty. Afterparty tickets sold separately.
Diversity in Cannabis Excellence – Cannabis and Culture: Celebrating 50 Years of Hip-Hop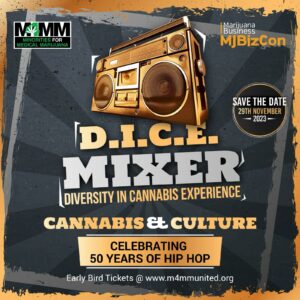 Wednesday, November 29 7:00pm – 12:00am
M4MM's annual MJBizCon Diversity in Cannabis Excellence (D.I.C.E.) Mixer brings together culture, business, networking, and entertainment. Join us and special guest of honor, Martin Luther King III, honoring the life & legacy of his fight for equality in the cannabis workforce. We'll be having live music, tasty food, door prizes and activities for attendees to enjoy. Tickets are on sale $50 online or $75 at the door. Location: 3905 W. Diablo Dr. Las Vegas, NV.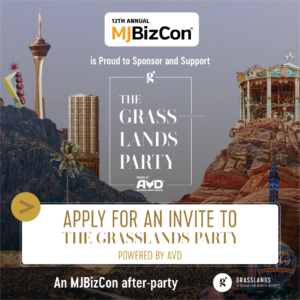 Wednesday, November 29 7:00pm – 12:00am
Hosted by Grasslands: A Journalism-Minded Agency. The Grasslands Party is a high-level networking gathering that brings top-tier cannabis decision-makers, tastemakers and media professionals off the showroom floor and beyond the strip, where they can relax and forge meaningful connections with future partners, collaborators and allies. As the cannabis-savvy marketing agency that has produced this event throughout the U.S. and Canada since 2017, Grasslands is proud to bring decision-making cannabis and psychedelics professionals together once again this fall. We're not about that rooftop flash or big-name DJ. We're about moving the industry forward by connecting top-tier professionals through shared experiences, and love to share our signature approach to over-the-top hospitality. Location to be provided to confirmed attendees. VIP hour is from 7pm-8pm. Doors open for GA at 8pm, and the party goes until midnight.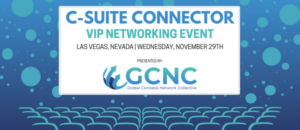 Wednesday, November 29 6:00pm – 8:30pm
C-Suite executives are invited to join members of the Global Cannabis Network Collective for an evening of international networking with leaders from around the world. This year's event takes over Las Vegas's first indie film house and will present inspiring short films highlighting cannabis advocacy and community stories from around the world. Enjoy delicious cuisine from Nevada's ONLY plant-based food truck while networking with globally minded movers and shakers!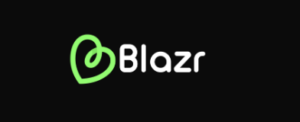 Wednesday, November 29 10:00pm – 5:00am
Blazr.App the cannabis dating app has partnered with the world famous Peppermint Hippo Gentlemens Club to bring you the the best MJBIZCON networking event for 2023. There will be plenty of food , drinks, good music by celebrity guest DJ's and a'lot of good networking. Some of the biggest brands in the cannabis industry will attend. This event is open to the public and all MJBIZCON attendees and will be held on November 29th 30th and 31st three nights of networking. The Green Light Party is presented by Blazr.App the Cannabis Dating App. X Peppermint Hippo.
MJ Budz & Biz: A Social Soiree presented by Cannabis Talk 101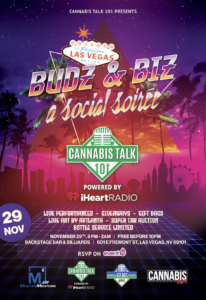 Wednesday, November 29 9:00pm
Get ready to elevate your Vegas nights with Cannabis Talk 101 and Fremont Country Club/Backstage Bar & Billiards Presents Budz & Biz Social Soiree! Join us on November 29, 2023, from 9 PM to Late. Expect pulsating beats, refreshing cocktails, live performances, giveaways, and an unforgettable atmosphere to kick off an epic week! Enjoy live art by Artlanta, bottle service, raffles & a super car auction. Plus, no cover if you arrive before 10 PM! This event is open to the public. This event will be held at Fremont Country Club and Backstage Bar & Billiards 601 E Fremont St, Las Vegas, NV 89101, USA
Jack Herer Cup Afterparty in collaboration with Edibles Magazine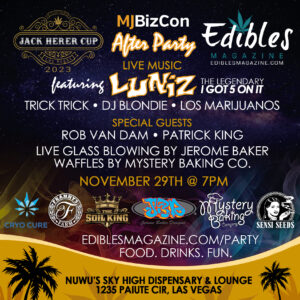 Wednesday, November 29 7:00pm – 11:00pm
Come say "High" and join us for a legendary cannabis after party Wednesday, November 29th (7pm-11pm) at NuWu Dispensary's Sky High Lounge! Featuring live music by LUNIZ (I GOT 5 ON IT), Trick Trick, DJ Blondie, and Los Marijuanos. Special guest appearances by Rob Van Dam and Patrick King. Live glass blowing by Jerome Baker Designs and Waffles & Desserts provided by Mystery Baking Co. This epic event is brought to you by the Jack Herer™ and Edibles Magazine™ families. Thank you to our premiere sponsors: Soil King, Sensi Seeds, Franny's Farm and Cryocure. Location: NuWu Cannabis Sky High Lounge 1235 Paiute Circle, Las Vegas, NV 89106. See you there for Food, Drinks and Fun! Reserve your tickets now: www.EdiblesMagazine.com/party
Blunt Brunch Las Vegas | 2023 Nationals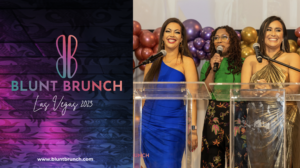 Tuesday, November 28 12:00pm – 5:00pm
Join us at Blunt Brunch National 2023, where we are thrilled to bring together over 400 powerful women in the cannabis industry for an unforgettable afternoon of networking, brunch, and empowering conversations. This is an incredible opportunity to connect with industry leaders, innovators, and professionals who share your passion for cannabis. Our event agenda is packed with exciting activities that will leave you inspired and empowered. From 12pm to 2:30pm, indulge in our delicious buffet brunch while engaging in insightful discussions led by our empowering speakers. After brunch, from 2:30pm to 5:00pm, join our social mixer and interact with our sponsors, vendors, and guests. Ticket Options: – VIP Ticket: admission, buffet brunch, social admission and gift bag. – General Admission ticket: admission, buffet brunch, and social admission. – Social Ticket: Admission to social only. Join us at Blunt Brunch National 2023 and be a part of this exciting movement! If you're interested in becoming a sponsor for Blunt Brunch National 2024, please email sponsorships@bluntbrunch.com
Sensi-Hearst Kickoff Party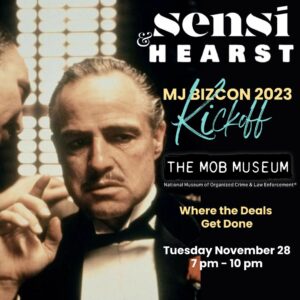 Tuesday, November 28 7:00pm – 10:00pm
Join industry powerhouse Sensi Media, and world-renowned Hearst Media as we provide an epic kickoff to MJBizCon 2023! What better place to enjoy how far we've grown since the days of prohibition, than the iconic Mob Museum! In typical Sensi fashion, this is more than just a party with Music, Food, Drinks, Elvis and showgirls! Network with CEO's and Decision Makers, Connect with Sponsored Brands, Tour the Museum, and be entered to win one of our amazing Prize goodie baskets! For Brand Activation Opportunities contact Ron@sensimag.com or jamie.cooper@sensimag.com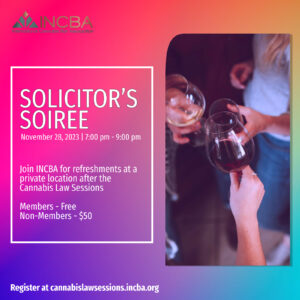 Tuesday, November 28 7:00pm – 9:30pm
The INCBA Annual Private Party (Solicitor's Soiree) is set to take place on November 28, 2024, from 7-9:30pm. The event will be hosted following Cannabis Law Sessions at MJBizCon. This party offers a perfect opportunity to wind down, connect with fellow industry professionals, and reflect on the exciting recent developments in the world of cannabis. Expect a delightful spread of hors d'oeuvres & beverages! We look forward to hosting an unforgettable evening of networking and celebration. Join us as we raise a toast to the ever-evolving cannabis industry and the legal excellence that drives it forward.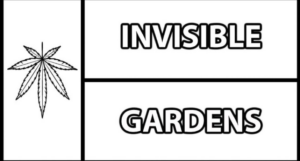 Tuesday, November 28 9:00pm
Didn't get into the "Kool" party? Join us InvisibleGardens.com EVERY night Tuesday through Thursday at the Chandelier bar inside the Cosmo. Thanks to the hundreds of industry titans that joined us last year! It's a great location to start or end your night! Contact for details: kmoss76@ctc.net
more
Time

(Tuesday) 7:00 pm - 9:00 pm
Location

Las Vegas Convention Center